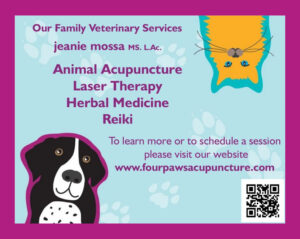 Our Family Veterinary Services is now offering
Acupuncture and Holistic Medicine for your pets!
Acupuncture is a time-tested clinically effective holistic solution to the stresses and health problems of your pets in our modern times. The effects of acupuncture and herbal therapy are gentle yet very effective for a wide range of
health problems, and it is a cost-effective method to regain and maintain the
health of your pet.
Licensed Acupuncturist, Herbalist and Author, Jeanie Mossa MS. L.Ac. will be accepting new dog and cat patients in our office starting January 2023.
To schedule a session or for more information, please contact Jeanie directly via
the Four Paws Acupuncture website:   https://www.fourpawsacupuncture.com/
The site provides necessary information about the various therapies used, fees,
new patient forms and guidelines for office visits.
Your pet does NOT have to be a patient of Our Family Veterinary Services to receive sessions by Jeanie. You will need to fill out a New Client Health History form and the Veterinarian
Referral Form before your pet's session if you are not a patient of OFVS. All forms may be downloaded from:   https://www.fourpawsacupuncture.com/fees.html